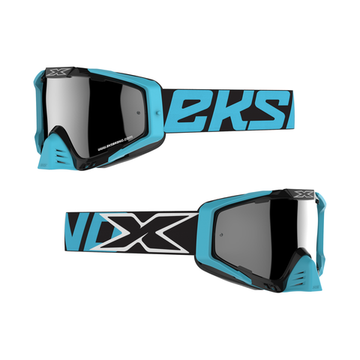 Here at MotoDLVRD we like to highlight some of the amazing products our brands are bringing to the table. We have partnered with EKS Brand Goggles and are beyond stoked on some of the products they are bringing to the table this year. Our favorite ones are these teal blue and black Premium goggles. Check out their site HERE to snag yours today!
Additional Information from EKS:
EKS-S is the latest premium EKS Brand goggle in an arsenal of clear-vision off-road protective eyewear. The EKS-S lineup is built with superior materials, style, function, and comfort in mind. EKS Brand duplicated each benefit of the rider-favorite GOX goggle and engineered a new Force-Fit outrigger system, a detachable nose guard, and incorporated a tab system into the lens channel to help reduce lens recoil. A newly integrated Flo-Air ventilation system, 4-layer neoprene fleece lined face foam, and an ultra-pliable Poly-Flex urethane frame makes this one of the best-fitting and most versatile goggles you will ever put on your face.