#MotolifeDLVRD Blog
Eagle Grit Powersport Wash is the dirt bike cleaning product we've always needed...
by Nicholas Bradwell on Jul 05, 2019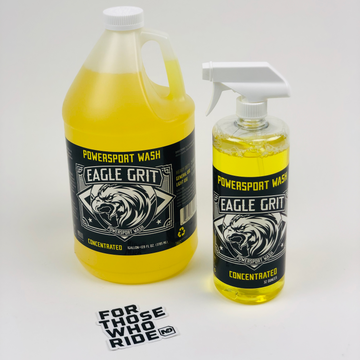 We've all been guilty of using dish soap to clean our bikes. With bikes only going up in price, you really have to take care of our investments. This Powersport Wash was specifically formulated for cleaning your ride. 
We had the opportunity to use this product and were really impressed with how well it cut through grease and built up dirt. The cleaner is also biodegradable and won't ruin your lawn. For quite some time we have resorted to using products like Simple Green but this Eagle Grit Powersport Wash is even stronger. Safe to say we won't be going back.
------
Their Powersport wash comes in a handheld spray bottle and also available in a 1 gallon size for those using it for pressure washers, etc.
------

------
We found that this stuff leaves your bike looking fresh and new in comparison to some of the other cleaners on the market.
------


Swing by their site eaglegrit.com and grab yourself some Powersport Wash today!
Additional Product Details:
Made exclusively for washing dirt bikes, mountain bikes, ATV's, UTV's, watercraft and more
Concentrated, neutral PH balance, water-based and biodegradable
Safe to use on all surfaces including aluminum, plastic, carbon fiber, rubber, paint, metal, fiberglass and more
California/OTC VOC compliant
Made in U.S.A.