Ryno Power
Ryno Power's Mana Bar is what every rider needs.
by Nicholas Bradwell on Mar 19, 2019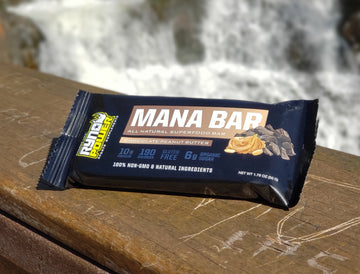 As riders, us here at MotoDLVRD understand that just like your bike, you need to be fueled up right in order to ride at your highest ability.  To make sure you can do just that, Ryno Power has created their newest all natural superfood bar, the Mana Bar.  
Packed with 10 grams of plant protein from 100% non-gmo and natural ingredients such as quinoa, chia seeds, flaxseeds, and more, the Mana Bar is perfect to keep you going both on and off the track.  
We know what you're thinking, something that's so good for you can't possibly taste good. However, the Mana Bar isn't like other superfood bars. The chocolate peanut butter flavor is killer!  The time that went into perfecting the taste of this bar doesn't go unnoticed. From the organic peanut butter to the gluten free rolled oats, the Mana Bar is sure to satisfy both your taste buds and your hunger, allowing you to focus on your ride.
So make sure you grab one of these guys before heading out to the track or smash one after an intense workout.
Get yours from Ryno Power Here